Jeunesse Global Financial Rewards Plan
We are pleased that you have joined Jeunesse Global.
Congratulations: you are here at the right time and the right place to get your network marketing career rolling.
Know that there is a huge rising demand for the anti-aging industry and Jeunesse is the perfect opportunity that you've been waiting for. Now is your time to join before the market gets saturated. You don't want to miss this!
So let get started !
Jeunesse Global offers six streams of income:
1. Retail Profit
2. New Customer Acquisition Bonus
3. Team Commission
4. Leadership Matching Bonus
5. Customer Acquisition Incentive
6. Leadership Bonus Pool
1. Retail Profit
Purchase at wholesale and sell at retail!
Example: You pay $83.95 for a product and sell it at the suggested retail of $134.95–you earn a $51.00 retail profit!
You can sell it to anyone who wants to buy the product without being a Jeunesse Global Member. If they wish to become a member, you will have to register them on the JeunesseGlobal.com site under your user ID.
2. Customer Acquisition Bonus (CAB)
If you personally recruit some one new into the business to join your team, you will receive the CAB or Customer Acquisition Bonus. The CAB bonus are paid according to the package purchased by the new person you enrolled and ranges between USD 25 to USD 250. Actually since there is no limit to how many packages that can be sold, there is no limit to how much you may earn too. These bonuses are paid on the purchase of one of the optional Jeunesse Global product packages as follows:
Product Package
CV
CAB
Entry Package
100
$25
Basic Package
125
$25
Supreme Package
300
$100
Jumbo Package
400
$200
Ambassador Package
500
$250
1 Year Jumbo Package
1060
$200
See details of the different packages
CV = Commissionable Volume (see Glossary of Terms in the Jeunesse Financial Rewards Plan)
CAB = Customer Acquisition Bonus
3. Team Commissions
| | |
| --- | --- |
| Team commission simply enables you to earn as your Jeunesse total sales increases or your Jeunesse team grows. In order to earn you will have to accumulate 100 PV or personal sales volume and engage 2 distributors who each accumulate 100 PV. Then you will be paid upon each cycle beeing completed ($35), and to complete a cycle you simply need 600 CV on the left and 300 CV on the right or vice-versa. A maximum of 750 cycles per week is allowed and per cycle is $35. This equals to $26250 a week from a single account!! | |
4. Leadership Matching Bonuses
Every time one of your personal sponsors earns a cycle, you earn a Matching Bonus!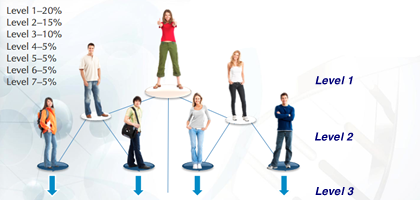 Leadership Matching bonus is a huge portion of your would-be Jeunesse global income. Your personally enrolled team means that anyone whom you personally singup under you belongs to this team. Now imagine if you get to earn a percentage of the commission from those that you personally enroll plus the people that they introduce up to 7 levels deep! You only need to retain about 60PV monthly in order to overwrite 5%-20% of all your downline's earnings!

The higher your rank at Jeunesse, the more levels of Matching Bonuses you can earn!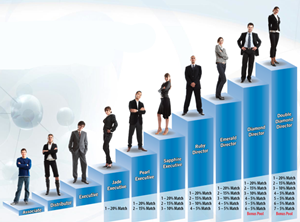 See here all details about Jeunesse rank matching bonuses.
5. Customer Acquisition Incentive
By having a minimum of 5 Preferred Customers for the current month, you can also receive an additional 5% Leadership Matching Bonus from those Distributors on the first level of your team.
Having 10 Preferred Customers increases this to an additional 10% on your first level team Distributors.
6. Leadership Bonus Pool
Three percent (3%) of the Company's CV will be paid quarterly to qualified Diamond Directors.
Income from this pool is based on shares earned by qualified Diamonds. Also some vacations are offered.
Getting Started
Virtual Business Kit (Starter Kit) for $29.95 USD.
Replicated website/real-time Back Office
Built-in merchant account/online shopping cart
Ability to buy wholesale, sell retail
Select optional product sign-up package.
Become an Executive.
Set up your Autoship with a minimum of 60 PV worth of products
Annual Website Renewal Fee is $19.95. Or maintain 360 CV with your Autoship each year and it's FREE!
And here some video presentations of Jeunesse Global compensation plan: